| | |
| --- | --- |
| | Classic/Muscle Cars & Trucks |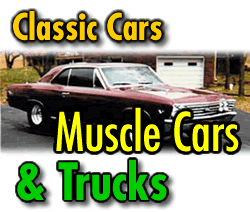 If it's Classic Cars, Muscle Cars or Trucks you crave, Auto Racing Alley offers the finest collection of diecast collectibles. These diecast cars are made by such quality manufacturers as Action Performance, Burago, Classic Metal Works, Code 3, Conrad, Corgi, Ertl, Hot Wheels, Johnny Lightning, Maisto, Matchbox, Micro Machines, Racing Champions, Revell, Team Caliber and Winner's Circle. These highly detailed collectible diecast cars range in scale from a tiny 1/144 scale to a large 1/16 scale with every scale in between.

Our collectibles also come in model kit form, both plastic and diecast. For example, Maisto is a leader in quality diecast vehicles. From the classic Jaguar S-Type sedan to the sleek Mercedes Benz CLK-GTR race car, these beauties are highly detailed and favored by collectors worldwide.

Our Muscle Car diecast, from quality manufacturers like Ertl, feature the classic muscle cars of the 60's and 70's including a complete lineup of vehicles from some of the greatest car movies and tv shows. We also carry sportscar, classic and muscle car apparel with popular names like Porsche, Ferrari, BMW, Chevy, Ford and others.

So come visit us and let us know if there are any items you don't see that we can find for you. We pride ourselves in giving you personalized service and high touch so let us assist you. Get your collectible diecast cars and trucks today!



About Us | Contact Us | Request a Catalogue | Contest | Hot Specials | Gift Certificate
Customer Service | NASCAR | MLB | NBA | NHL | College | Indian Motorcycles | NHRA
Classic/Muscle Cars & Trucks | Cart/Indy Car/formula One
© Copyright 2003. Site designed and hosted by Mango Bay Internet
This site is optimized for Netscape 4 and Internet Explorer 5 or higher.
Please download an updated version now.